I am a 21-year-old college student at American University (Washington, D.C.) majoring in Visual Media and minoring in Graphic Design. I plan to graduate in May 1999.
I was never really interested interested in Web design until I started taking design classes here. Since then, I have designed a new logo for the student-run radio station, WVAU, and am currently working on a Web site for them.
On the Visual Media front, I recently returned from AU's World Capitals Program's semester in Prague. Studying at the FAMU film school was a great experience, and the city itself was breathtaking. Over the course of the semester, I visited England, Ireland, France, the Netherlands, Germany, Slovakia, Austria, Croatia, and Slovenia, as well as (of course) the Czech Republic.
Though, for all my travelling, I still love sunny (supposedly) Santa Monica. Even after a semester in D.C., I hear the Pacific calling me home. I know it sounds cheesy, but I really am a man of the West. In case you're wondering, my nickname, Alika, is Hawaiian for "Alex." I was born there, and then raised in Santa Monica, but the name stuck (due to my family).
Find my life-in-a-nutshell interesting? E-mail me below.
Curious about my interests? Check out my links page.
---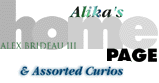 E-mail me!