Entertainment
Food & Drink

Coffee

The Coffeehouse Nook: My very own. If you're looking for a good coffeehouse, check here.

Restaurants

Dinner and a Movie.com: Cute name. Decided to take a chance on this link.

Games (Online)

Gamesville: Formerly known as Bingozone, now Gamesville has 3 games that you can play for cash.

Riddler: Seems like they're undergoing some problems. Maybe they're up and running again.

Hollywood

Hollywood Stock Exchange: It still confuses me, but the idea is cute.

Variety: The online version of the showbiz periodical.

Movies

MovieLink: The online version of 777-FILM, 333-FILM, etc.

Television

TVGen: Like me? Too cheap to buy a paper, check out TVGuide's Web site. Better than the book!
Friends
Karen: She's into MUDding. I was always told not to play in the mud.

Krissy: Where are you? Here is her Web site.
Government (U.S.A.)
Agencies

Environmental Protection Agency (EPA): Save the Earth!

National Aeronautics and Space Administration (NASA): What's up, up there?

Executive Branch

The White House: A so-so site, but you can send an e-mail to the President.

Politics

Green Parties of North America: I'd be a card-carrying member, if it wasn't a waste of resources. ;-)
Internet
E-Mail

Hotmail: The only way to go (even it is owned by Microsoft).

Search Engines, etc.

Metacrawler: Use seven different search engines simultaneously!

The Mining Company: A Web guide compiled by folks like you and me. (I think I will manage a topic myself, someday!)

Web Site Resources

Geocities: You can't beat 6 megabytes of free space, can you?

Link Exchange: Place a banner, get more visits (supposedly).

Tripod: Another free homepage provider (with 5 Mb of space, standard).
News / Newsmedia
CNN: As far as I'm concerned, the best news on the Web.

The Associated Press: Get it from the horse's mouth.
Assorted Curios
NeoPlanet: Tired of the Big Two? Try an alternative browser interface!
---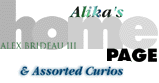 E-mail me!